The little City of Petaluma supported a wonderful 2016 Veterans Day Parade complete with Flyovers from our friends the "Huey Vets" with their restored Huey Helicopter. The U.S. Coast Guard and 5 Warbirds participated as well.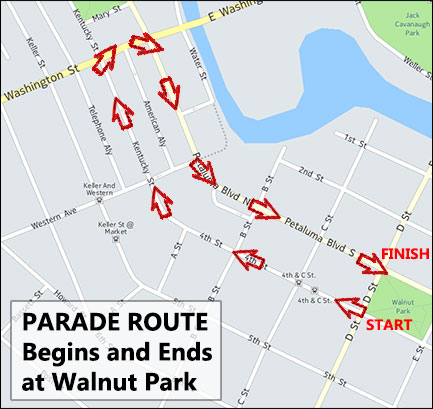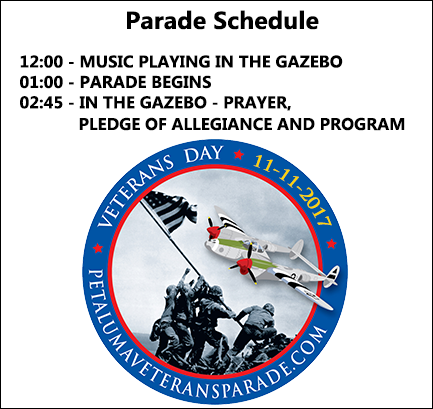 Schedule Details
For those participating in the parade, street monitors will be on hand to give out assigned numbers. Staging begins at 11:00 AM on 4th Street, from D Street south to I Street.
12:00 Noon to 1:00 PM Music will play in the gazebo. Peter Lombardi will head up the sound system.
The 12-1 Band, Johnathan Parneli and Friends will perform in Walnut Park
Program after the parade, Captain Paul Flynn USCG will be the speaker at approximately 2:45 PM at the gazebo, opening prayer, Pledge of Allegiance, introduction of Speakers of the Day.
The National Anthem and God Bless America will be sung this year by Adrea Krout.
Thanks to Friedman's, Camelbak, and all the donors of 2014, you make the parade possible.
History
From 1967 to 1983, Julius Forcucci & 2 WWI buddies walked the parade together.
In 1983 one friend died & the other was ill, so Forcucci walked alone carrying an American Flag in 1984 and 1985.
In 1986, 50 veterans joined him and the annual parade began.
Julius Forcucci died Sept. 7, 1988 at age 94. During the 1988 Veterans Day Parade a riderless horse with it's stirrups tied to the saddle led the parade in honor of Forcucci.
Over the years the parade has grown. In the early 90's the parade reached 100 entries. The 2014 parade had over 190 entries with over 2,000 participants. The estimated crowd was over 40,000.
It is the largest Veterans Day Parade north of the Golden Gate.
expected Highlights
Several military parents and military offspring
Grand Marshals: Brothers Delmer, Joe, and Martin Turner
There will be Clydesdales in the parade pulling Gold Star parents Lombardi Harriott.
The Marin Sheriff's Posse is joining the parade this year. They do search and rescue.
A Huey Heliocopter will fly over the parade, Sheriff's & US Coast Guard Helicopters.
Parade announcers are located at the Petaluma Museum, Putnum Plaza, and in front of the Hide Away Bar.
The attached logo is created & printed by Mrs. Grossman's Sticker Factory. The company has donated these stickers for the past 10 years.
The USAF Commanders Jazz Combo will perform.
Korean War Memorial will be dedicated after the parade.
Mission Statement
We remember how men and women set aside their civilian pursuits to serve their nation's cause, defending the freedom of mankind and preserving our American heritage.
We salute past, present and future members of our armed forces.
We recognize service to our country and her cause does not end with termination of military service.
Out of blood and sweat we learned of purpose, sacrifice, tolerance, bravery, and discipline. In our continuing quest for an honorable world peace, we must cultivate these virtues.